About the Lecturers (A-Z)
Academic Quick Fix: Academic Writing
Academic writing is often perceived as a daunting task by students and scholars alike—but it doesn't have to be. What is more, while everyone in the academe practices academic writing, the products of that practice do not look, feel and "read" the same across disciplines. Indeed, there are different academic writing "cultures" in place in the humanities as opposed to the natural or engineering sciences. However, whether we think, work and ultimately write in terms of the scientific method or critical/cultural thinking, we arguably follow a universal process in what constitutes academic research. Academic writing is then merely a formal means of presenting scholarly research whether it is literary analysis, a sociological survey or an experiment. Thinking and working through one's research in terms of writing and vice versa is a meaningful way to dispel the seemingly daunting nature of producing a scholarly text. In this one-stop-(work)shop, we will explore the process of "doing" research vis-à-vis easy-to-use writing tools with a view immediately putting them into (writing)practice. Preparing participants to author a manuscript for consideration in the publication series Off Campus: School of Thought will serve as an overarching goal.
Stefan Rabitsch
stefan.rabitsch@uni-graz.at
(University of Graz, Austria)
Short CV: tba
Academic Quick Fix: Public Speaking
Ralph Waldo Emerson remarked that "[a]ll the great speakers were bad speakers at first," while Mark Twain famously said that "[t]here are two types of speakers, those who get nervous and those who are liars." Between the two of them, they speak to the single most important key to successful public speaking regardless of the venue, audience, scope and technological equipment: practice. This workshop will offer a practice-based approached which will help participants prepare and carry out professional presentations that are interesting, effective and well performed. In order to achieve audience impact, we will engage with dimensions that shape all forms of public speaking: presence, performance, design, delivery and technology (or lack thereof). Geared toward participation and collaboration, students will practice different genres of public speaking, ranging from impromptu talks, elevator pitches, interviews, science slams, storytelling, conference papers and thesis defenses.
Academic Quick Fix: Creative Writing
GUSEGG encourages students to not just academically, but also creatively engage in the program. This workshop is intended for students who wish to discover and explore their creative talents. Students are encouraged to express themselves creatively through various genres, and for a multitude of purposes. The workshop will also provide an opportunity for them to test try out ideas, exchange views, and develop their passion for writing.
Students will:
Develop writing skills and creativity skills,

Use personal experience in writing,

Acquire knowledge in writing styles,

Manage to further develop their creativity in various genres,

Acquire a critical outlook on various genres (e.g. poetry, prose, essay),

Establish a written voice and persona in their texts,

Successfully use English grammar,

Be trained in editing, correcting and drafting texts

Use creative writing as a resource for individual creative processes.
Off Campus: Seggau School of Thought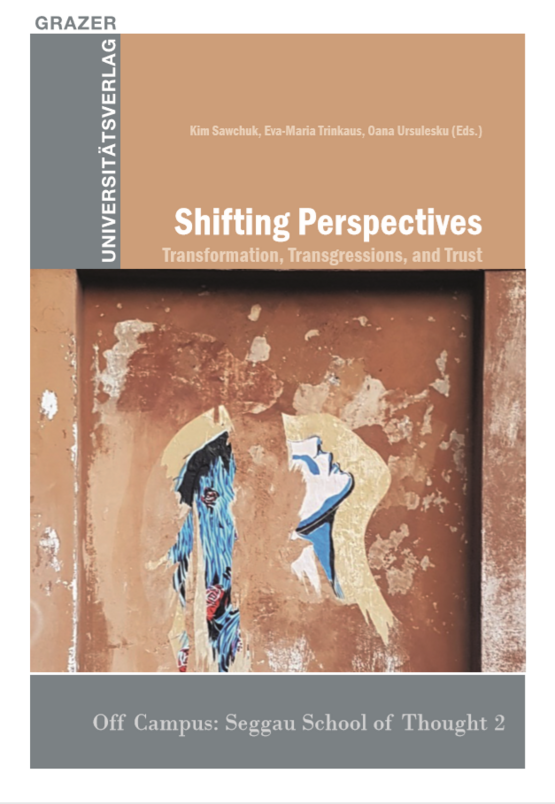 The Greek philosopher Heraclitus put forward the distinct doctrine of flux, the idea that the only constant in life is change. The flux of change generates relentless processes of transformation and shifting perspectives that are frequently perceived as unexpected and unpredictable. They are often triggered by the quest of individuals and groups for self-determination, for the need for cultural reassessment, by the ravages of war, or by more mundane motives of globalized businesses or politics. The essays in this collection robustly explore one or more of these states of transformations and shifting perspectives within three sections: Social Construction of Identity, Citizens and Governing Bodies, and Traumatization in/by War. We are well aware that as authors we are freezing a moment of shifting perspectives in the writings here. They will go on to all sorts of changes and lives from what we describe. And for that we are ever mindful and ever grateful.
More information on the volumes: https://universitaetsverlag.uni-graz.at/de/katalog/geisteswissenschaften/off-campus-seggau-school-of-thought/.
Publish your work in our Off Campus publication!
Becoming part of the GUSEGG network is a smart career move. You will have an academic network in which further exchange will be facilitated, and if you want to apply for Master or PhD programs all over the world, it will be easier for you to get in touch with professors to write letters of recommendation from institutions in Europe and North America.
Right after the Summer School, you already have the opportunity to publish your article in a reputable book!